The unbearable lightness of the Big C
René always had a flair for the dramatic, but chose the safe option of education as a career. She obtained her qualifications from the former Goudstad Teachers' College and Rand Afrikaans University (RAU) and has kept on working through many rounds of chemotherapy – "not called the Red Devil for nothing" – and close shaves with death.
Her commitment to teaching earned her two Educator of the Year awards from the Gauteng Department of Education when she was the headmistress of Malvern Primary in Johannesburg. She currently heads the Kuierkidz Learning Centre for children and youngsters with brain disabilities in Hartbeespoort.  She has adapted the SNAP programme for autistic children and tailors the programme according to each learner's individual needs with great success. She also evaluates children and facilitates the SNAP programme countrywide. "I was told that I work from my gut – and how very symbolic. The gut is regarded as the second brain."
René always had issues with her intestines, but never really paid attention. "Life was busy. There was always something to do, somewhere to be. In 1995 I had severe pain and was put on drips. But still there was no diagnosis and I just carried on. Then I was told I had an ulcer," René recalls while savouring her cappuccino sip by sip. It is a rare treat for her as she follows a strict special diet and has to avoid certain foods.
Only after an emergency operation did the C-word rear its ugly head. It was the start of a rollercoaster health ride that saw her on the brink of death many times. She has had several ileostomies (a temporary colostomy) and is still fighting the complete removal of what is left of her colon. In 2001 she was given six months to a year to live, and a few years later she spent three months in a coma on life support. Upon waking from the coma she had to learn to walk and eat again. "I think that is why I have so much empathy for the children at Kuierkidz. I understand their daily struggle to be understood and to complete tasks that others take for granted."
Cancer doesn't discriminate and it quickly cuts you down to size
What has kept her alive and going all these years? "In the beginning it was the knowledge that I wasn't ready to die. My daughter was still very young. And I was snobbish. Cancer is the great teacher; it doesn't discriminate and it quickly cuts you down to size." Having a strong support system in place is also vital when one has cancer and René is very grateful for hers – her husband, Christo, daughter Doreen, and her parents and siblings, who all spent many hours by her bedside, willing her to live when her life was hanging by a thread.
It is thanks to Doreen that René earned the name Veertjie. "In my quest to beat cancer, I investigated every type of spirituality and alternative therapy I could find, from Buddhism to brain gym. In the end the motto I live by is 'Face your fear, God is near.'  When I was so sick after chemo, Christo and Doreen had to perform dances, which we called our haka, to get me out of bed. Everytime I had to have the Red Devil, Doreen braided little sun-catchers from feathers, small pieces of mirror and beads.
"One day, when I was so ill I couldn't get up, she came and clipped a feather onto the head wrap I was wearing. I phoned one of my therapists, who told me to choose a symbol of hope, and told her I had found it. I have not been without a feather on my ear since. It reminds me of going through life light-footed, being mindful and appreciating every moment. Sitting here with you and feeling the sun on my skin is special."
René has found a wonderful oncologist on the South Coast where the Coetzees have a holiday home. "He is just amazing and supports my decision not to go the chemo route again should the cancer return. I have made my peace."
René has been keeping a diary of her journey with the Big C, which she hopes to publish sometime in the future. Queen C – as her colleagues at Malvern Primary used to call her for her surname, but which could now easily stand for Queen Cancer – certainly has a story to tell. "I don't know if I would have chosen this path for myself, but I do know this: all is well."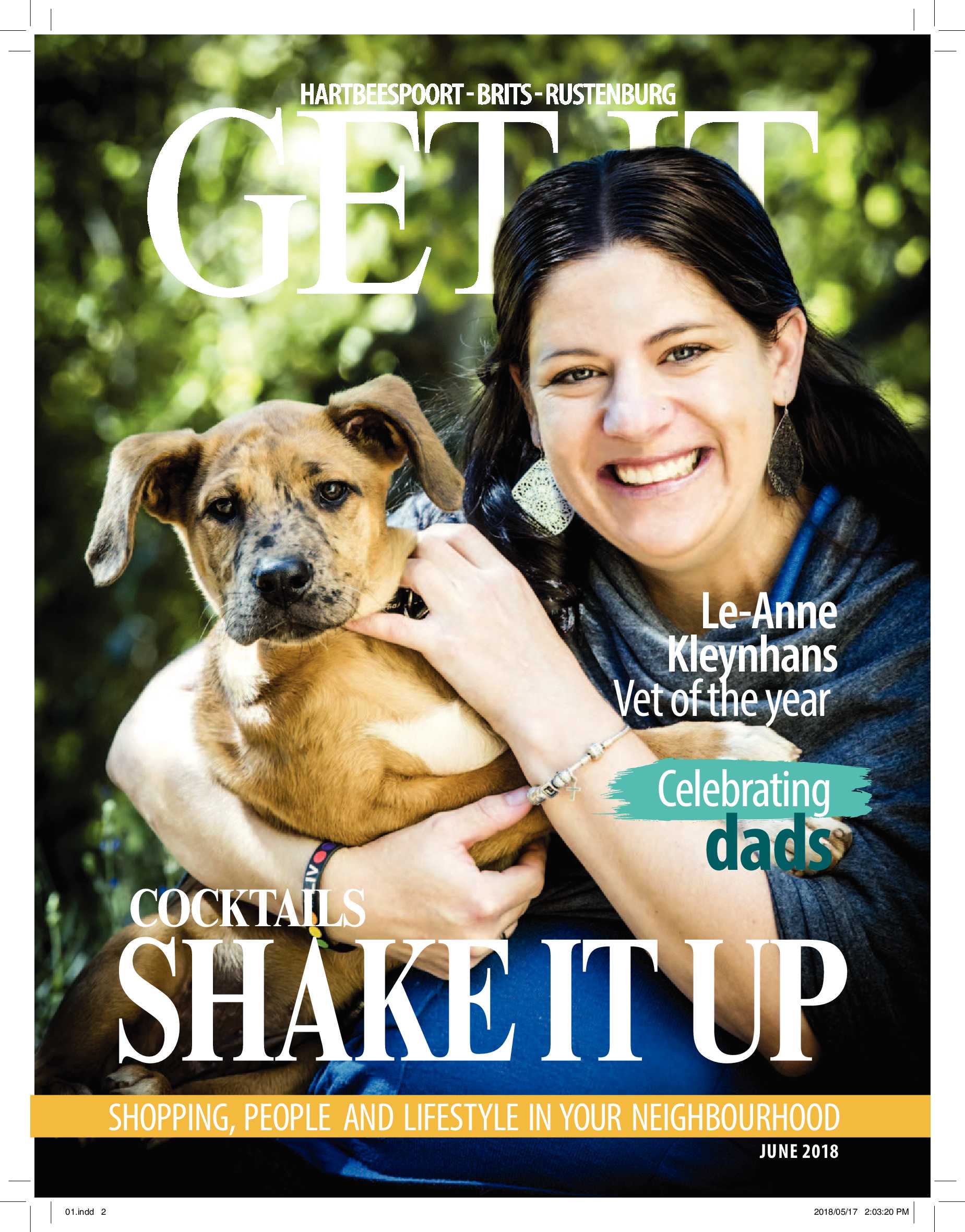 is a national brand of premium free magazines available in centres across the country.
to see other Get It magazines in the network.