A life of addiction exchanged for a life with family
Are you looking for Mr McKenzie himself," asks the guard at the gate of the beautiful Kosmos village.
Alastair McKenzie is as down to earth as he is prominent in the community and knows and interacts with everyone.  He has "been there and done it all" as they say, and though he speaks with unrivalled experience and understanding of spheres which are and will always be rather strange to the average joe, he is as humble as a man can be. Sitting on the veranda of his home overlooking the Hartbeespoort dam, softening his voice as he chats with his cats and dogs, Alastair says "We have lived here for around 20 years, but as you can see, we like the cottage-style, modest living."
This has not always been Alastair's way of life, however. When he and his wife, Michelle, arrived in Hartbeespoort with two small children aged two and four in 1995, they were fast climbing the ladder to the top of the hospitality industry.  He had owned a Longhorn steakhouse in Rivonia and later purchased another restaurant in Hyde Park which he also changed into a Longhorn franchise steakhouse.  The Squires and Longhorn groups then did a deal to list on the Johannesburg Stock Exchange, where they traded very successfully for many years.  This, of course, meant loads of money for Alastair.
Fast forward a couple of years and the sale of his franchise chain to Famous Brands, upon arrival in Hartbeespoort Alastair found out about the old Lake Motel across from the zoo which three partners had turned into a Squires franchise.  It had been running for about 7 months, but the partnerships weren't working out and Alastair bought it from them.
This is where Alastair started living the high life and all it was paired with.  "I started using cocaine recreationally with friends every now and then," he says, "and because of the industry I was in and the access I had to a whole lot of money, booze was also freely available.  You know how it is – with all the fame and money comes alcohol, drugs, fast cars and fast women."
Before Alastair knew it, the drugs and alcohol, initially just a fun pastime, had consumed his entire life.  "Some people are able to pop an ecstasy or use CAT every third week and keep it at that, the other half sadly end up in rehab."  Alastair says that he tried, with all his might, to control the habits he had gotten into.  "I would stop for three months and believe that I was fine, and could go on using occasionally with friends, but the minute I started using again, it would all spiral out of control."
Alastair made several promises to his wife to clean up his act and quit his nasty habits, but somehow addiction always came back to take its toll.  "One Friday I went out with friends, and on Sunday morning when I eventually woke up, my wife and children weren't there.  I asked the helper, who was quite stunned that I didn't remember them leaving, and she informed me that they had left and were not returning."  Alastair knew that he would have to choose – a life of addiction without the love of his life and his two beautiful children, or his family and no more drugs and alcohol.
"My wife agreed to return on condition that I registered with the AA (Alcoholics Anonymous) and started attending regular meetings.  I agreed and started with their 12-step programme." Although the AA was designed for alcoholics, Alastair says that many branches incorporate drug addiction and Al-Anon (Family support groups) in their programmes.  "The AA's program has a very spiritual side," Alastair explains, "It speaks of God, or a higher power if you will, in seven of the twelve steps and really is an incredible programme."  Alastair also got involved and, for many years, helped host the AA meetings and helped others overcome their addictions.
At the end of March this year, this inspirational role model celebrated nine years of sobriety. Drinking and "shnarfing" have been replaced by open water swimming (with a couple of mid mar miles on his list of achievements) as well as regular work-outs at the gym and reading.
Alastair's warning to young and old who happen, at whichever point in their lives, to come face to face with drugs and alcohol is "The question you should always ask yourself is – when is something crossing the line from being just fun, to becoming detrimental to your life. I cannot blame drugs for anything – it was my decision to use it the way I did and there are different methods of quitting which work differently for people correspondingly."
Alastair also warns that one's emotional maturity stops developing the moment you start using alcohol.  "You may thus be 40 years-old, but be acting the way a 20 year-old would.  You know when you are heading for deep waters, but need to acknowledge this and take action before it is too late."
Alastair speaks of the autobiography of Mike Tyson which he is currently reading and thoroughly enjoying as he can relate to the way drugs caused a lot of trouble in Tyson's life and how, despite a whole lot of odds, he still managed to beat his circumstances to become a world-renowned icon.     He sits back and  also speaks, with the greatest reverence, of his wife Michelle.  "She is so strong and the anchor in our family," he says.  "She is deeply spiritual, looks amazing and really inspires people to be the best versions of themselves that they possibly can be.  She has supported and kept me going  throughout this journey."
Alastair jokes and says "As long as I stay away from the first drink now, I am fine."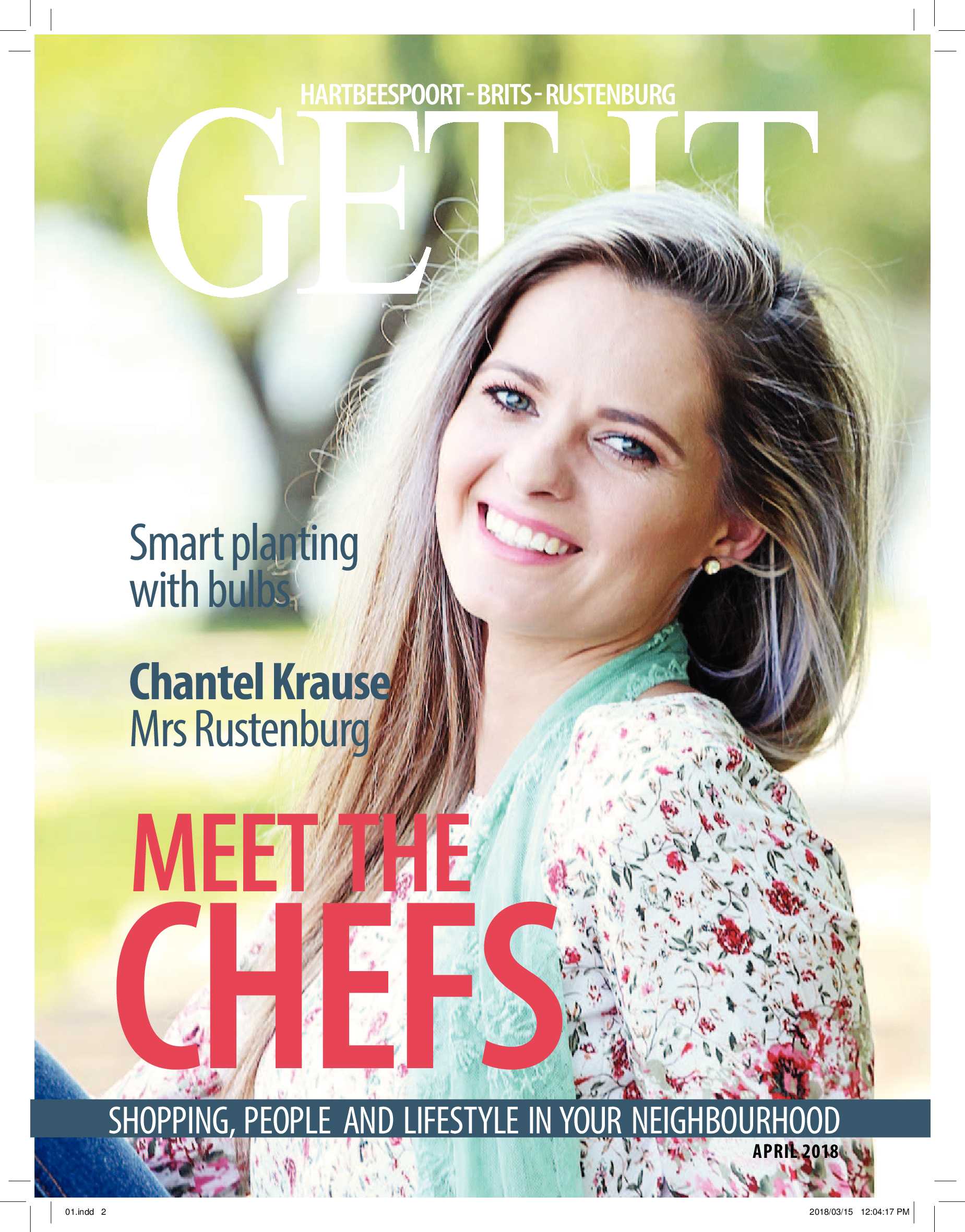 is a national brand of premium free magazines available in centres across the country.
to see other Get It magazines in the network.