Lights, cameras and loads of action
Gavin Edwards of Hartbeespoort is, undoubtedly, one of South Africa's most experienced and passionate artists and it shows in his performances and in the excitement in his eyes when he speaks of his career.
Gavin became a household name the minute he stepped onto the stage of MNet's incredibly popular  The Voice South Africa last year.  Immediately social media was abuzz with talk about him and his performance was being shared far and wide.  The crowd went wild as Gavin sang "Say Something" and the judges, Bobby van Jaarsveld first, turned to see the artist who's powerful voice they were hearing.  Of course, without the judges turning, there is no progress for the auditioning artist in The Voice.
A couple of months later, Gavin was announced the runner-up in the show and has grown in leaps and bounds ever since.  His energy and enthusiasm leave one in awe and make it clear why Gavin has persevered in this industry the way he has.
Gavin's journey as a musician started with him being a young drummer from Durban in a church band at the age of 17.  He then formed a cover band called Franklin. "When we tested our voices to see who the lead singer should be, mine was the least crappy and I was selected," Gavin laughs. In 2001 the band was playing at a gig at Sun City and was spotted by Brian Mc Fadden, former member of the boy band Westlife, and that is where things got big.
Brian moved the whole band to Ireland where he managed them for about six years. After that, the band split up and Gavin decided to follow a solo career, still managed by Brian. He toured to New York, Los Angeles, Nashville, Dublin and even Australia.
Packed venues with screaming fans, lights, cameras and loads of action were the order of Gavin's days. "I was really living that real big rockstar life people dream of. I would go to dinner with Brian and yes, I would expect to see some big names in the industry, but would be bowled over when I looked up and saw Russel Crowe sitting across me, or have Cheryl Cole's number saved on my phone."
Gavin's musical influences, to name but a few, are Michael Jackson, Bruce Springsteen, Eddie Vedder and Jim Morrison.  "The worst thing I did was to watch The Doors movie which made me want to be a Jim Morrison, but what I forgot to look at was the fact that he died at the end of the movie at just 27 years old."
Unfortunately, Gavin tells, he started celebrating success before he had really achieved all he wanted to, and started drinking heavily. "I was a self-sabotager. I was so afraid of success that I would drink a lot before really big performances, and it would scale my talent down terribly. I was this angry guy because I had let so many deals slip, or almost gotten this and nearly gotten that, and alcohol was my escape."  One day, however, due to all the drinking, Gavin could no longer feel rhythm. "That's when I got scared and realised I would have to choose between music and alcohol, and I chose music."
Just after The Voice, he released his first single, "Sparks" and is now part of the massive Universal Music  family. "I am thrilled that Universal signed me and released my album "Silver Skies" last year." Gavin is more determined than many artists to reach Platinum status, which requires selling 30 000 albums. "I will do whatever it takes, even if it means I must walk around and sell albums at rugby games or from my boot until I reach the necessary amount.The highlight of his career is singing the
Irish and South African national anthems.
In March Gavin celebrated two years of sobriety. "Now I am focused on nothing but giving my all to music, God, my beautiful wife Bella and my children."
To obtain a copy of Gavin's album, visit iTunes, Musica or send him a private message on Facebook.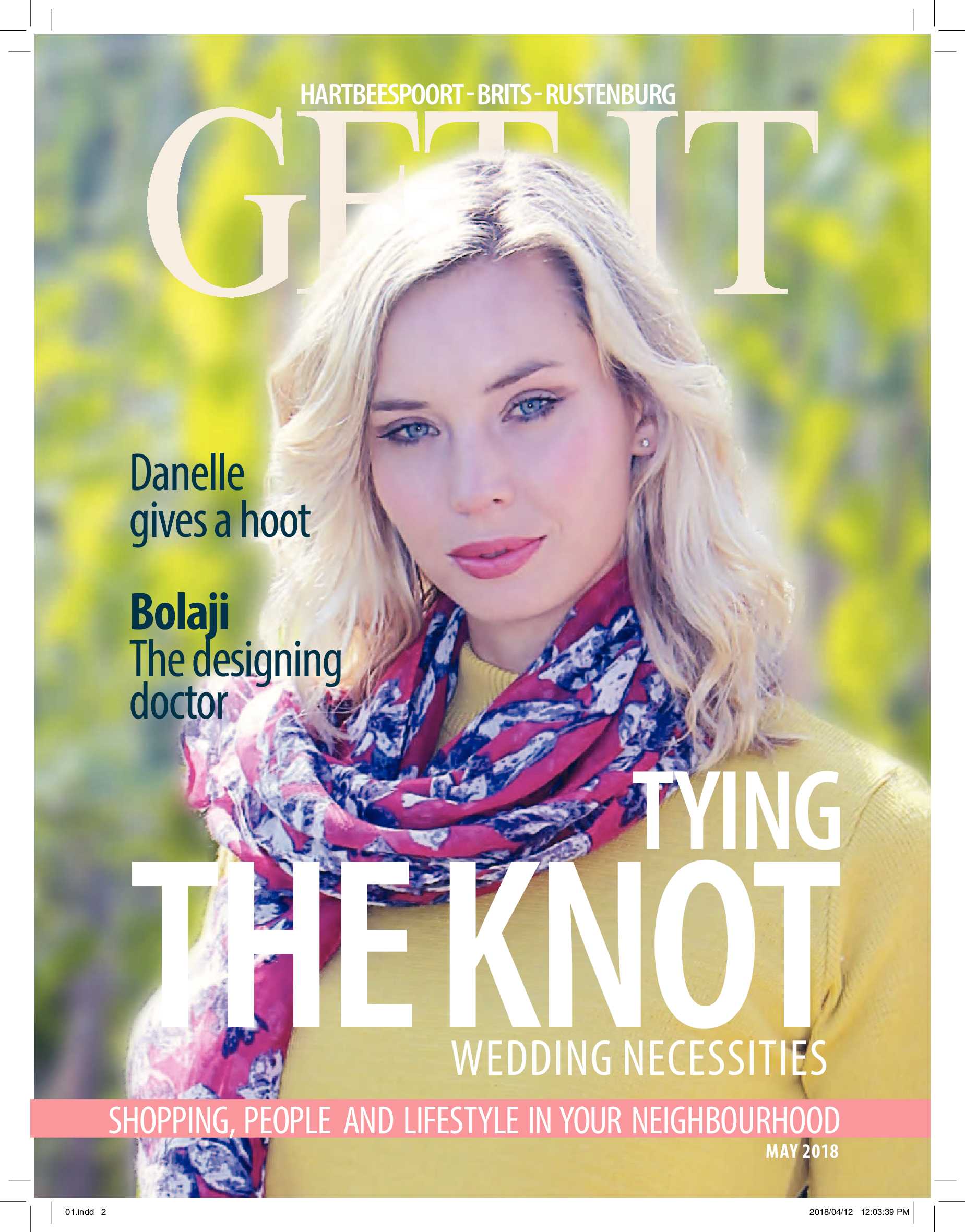 is a national brand of premium free magazines available in centres across the country.
to see other Get It magazines in the network.