Touria cooks Moroccan
"I love Moroccan food because it reminds me of home.When I cook I put all my emotions and love into the food." These are the words of Touria Vally, wife, mother and cook extraordinaire from Brits. Born and raised in Casablanca, Morocco, Touria is a well-known face at popular food markets these days. Her Moroccan cuisine is filled with subtle spices and intriguing flavour combinations. Think tart green olives paired with chopped preserved lemon rind stirred into a tagine of tender chicken, sweet prunes and toasted sesame seeds in a spicy lamb tagine or sardines coated with a flavourful combination of coriander, parsley, cumin and a hint of chilli. Influenced by Andalusian Spain, Arabia and France, Morocco's cuisine is a delicious
combination of mouth-watering flavours that makes it unique. Her mother taught her how to cook at the early age of 13. "We always had visitors at our house and when my mother was not home, I had to cook for my family and for the guests." Her marriage was an arranged marriage. Her sister, who stays in South Africa, knew Hoosein's family. The Vally family visited Morroco and there was an initial meeting in a family gathering. Touria and Hoosein got married and relocated to Brits 17 years ago. Adjusting to life in South Africa was not easy. "I cried a lot because I missed my home and my family. I could hardly speak a word of English and even though I had diplomas in accounting and computer programming, and could speak Arabic and French fluently, I could not work because of this. I watched television and read books and my husband helped me to learn English."  She got involved in her community and this is how her cooking career started. "I started cooking for the community over weekends and eventually people started to order meals from me." Her cooking business took off and today Touria and her family are wellknown faces at popular food markets. "It is a family affair. All of us work together to make it a success." Her first market was at the Mount Cambridge School in 2014. The Vallys are also familiar faces at the annual Hartiwood food and film festivals. Over weekends they attend numerous markets in the Pretoria area where their food is in high demand. They cater for weddings and other functions and also bake biscuits and cookies for weddings. With her husband being Indian, Touria has a love for Indian food as well. "I like to cook Moroccan and Indian food, and a fusion between the two. Moroccan food with the flavours of India mixed in." She uses her own experience, reads cook books and watches cooking channels to find inspiration for new dishes. Her family's favourite dishes? "All of them like different dishes. Preserved lemons and marinated olives, vegetable couscous and meat couscous, homemade pita bread… they like them all! " What makes her food so special? "I prepare all my food from scratch with fresh ingredients. My business grows through word of mouth. People like to try new things. And my food is good, so they tell everyone else." Touria stays connected to her roots by visiting her family in Morocco once a year. She says that people are always surprised to hear that it snows in Morocco in December. "Morocco is a place of opposites. On the one side you have the mountains with a climate much like Cape Town. On the other side you have the desert, which is dry and hot." She always brings back spices and Argan oil to South Africa to sell at markets. As a mother of three girls, aged 15, 12 and 8, Touria is quite busy during the week with sport and other activities that the girls need to get to. She is teaching her eldest to cook, with the two younger daughters helping out in the kitchen as well. Her family are the most important people in her life. "It is difficult to live so far away from one's parents. My mother passed away just a month after I visited her this year. You are not there for them when they need you." When asking her what advice she would give her daughters if they ever wanted to start a cooking business, Touria had the following to say: "Cooking is hard work. Do not try and do everything on your own. Teach other people to help you. Your studies are the most important, though. Girls should work hard and earn their own money so that they can be ready for the future." For delicious Moroccan cuisine and exotic spices, contact Touria on 071 549 8387.
16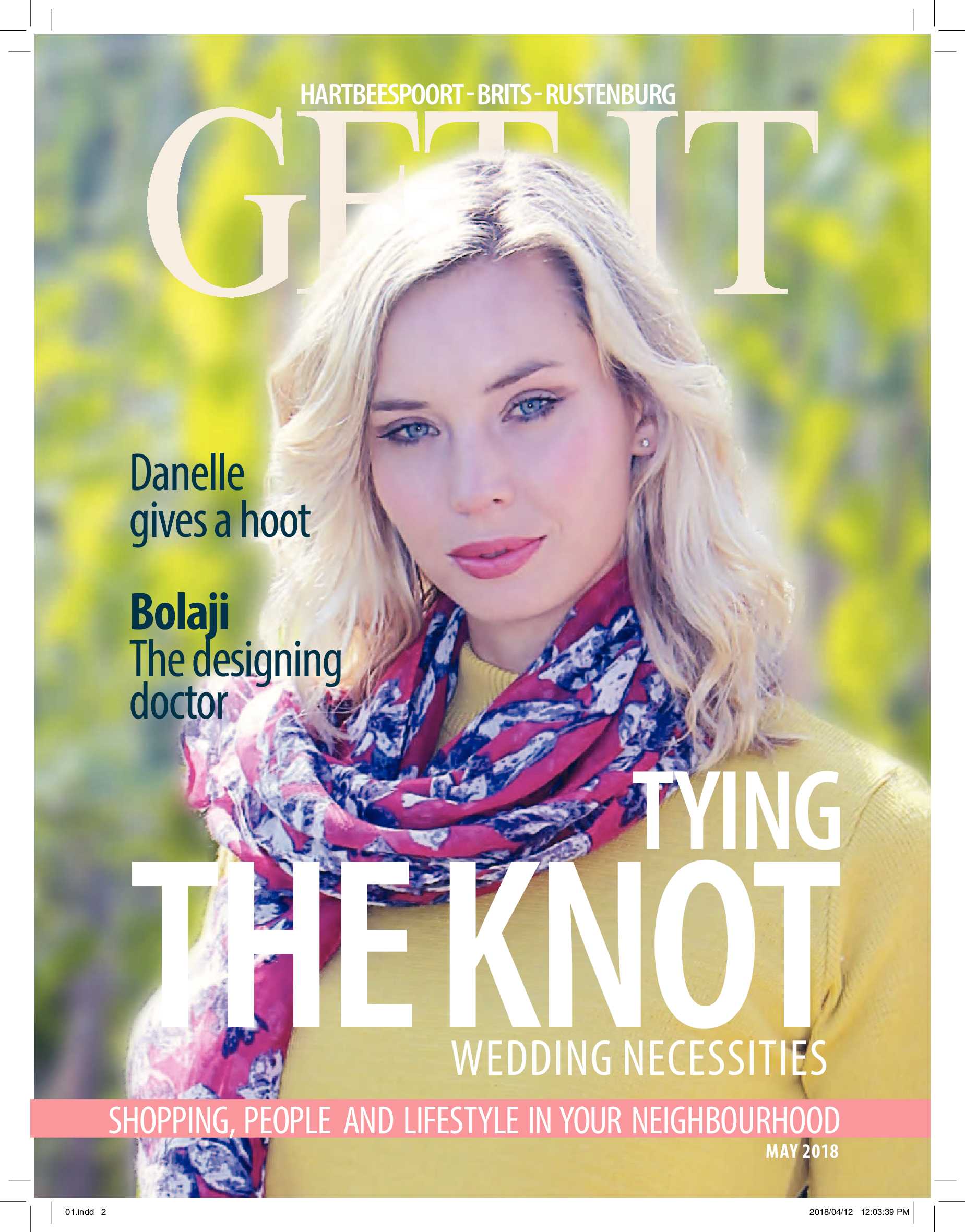 is a national brand of premium free magazines available in centres across the country.
to see other Get It magazines in the network.